"Some 129 coal miners have died in accidents in the first seven months of 2022, according to figures from the National Mine Safety Administration…" "The mining deaths highlight the tough policy trade-offs that are necessary as China tries to find a balance between ensuring energy security, but also protecting workers and curbing pollution. They're also a potential headache for President Xi Jinping as he seeks a third term at a crucial Communist Party congress later this year."
The excerpt above is from Mining.com's article titled "China pledges to cut mining deaths after spate of accidents" which is linked here.
China's coal production is up over 15% year over year, which is honestly impressive given the enormous absolute volumes we're talking about: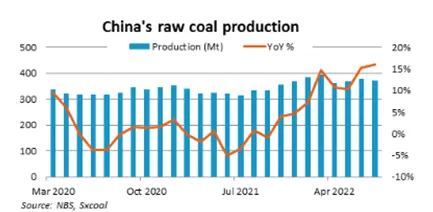 But the production ramp-up has predictably come at a cost to the mining communities.
"There's been at least one accident a week since the start of July at mines in Shanxi, according to a report in China Coal News. In the most recent major incident, five workers were killed after a roof collapsed at a mine in the province last Friday, Beijing News said."