Short-term & Medium-Term Assessment
Last updated as of: 9/14/2023
The S&P 500 experienced a "washout" low on August 18, 2023 . The following plot tracks the aggregate of long and short "scalp" proprietary signals which I monitor daily. You can see that on Aug. 18, out of the 100 or so large-cap stocks and etf's I track, 46 of them registered a short-term oversold, or "Long" signal. This was a screaming short-term "Long" signal.
However, on Thursday September 18, 2023 a similar washout signal occurred, with a concurrent short-term oversold, or "Long" signal on the SPY, IWM, and QQQ etfs. This typically suggests the odds of a snapback rally are high within the next 3 market days. So far today (Friday, Sept. 22), we're seeing a bounce back in broad equities, but it doesn't quite have the momentum I was expecting of a typical washout low, refer below: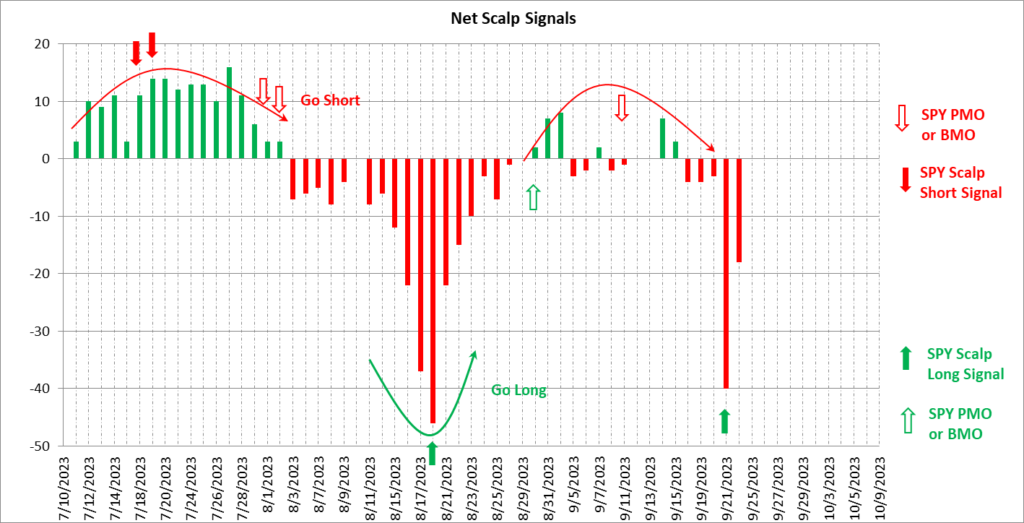 Medium Term: "Short" (as of July 31, 2023)
In the medium-term, the SPY etf remains in a "Short" position in terms of the Price Momentum (PMO) and Breadth Momentum (BMO) indicators, which you can see on the the chart below:
Note: for this analysis, short-term is measured in 1 to 3 days; medium-term is measured generally in 1 to 3 weeks, but sometimes longer.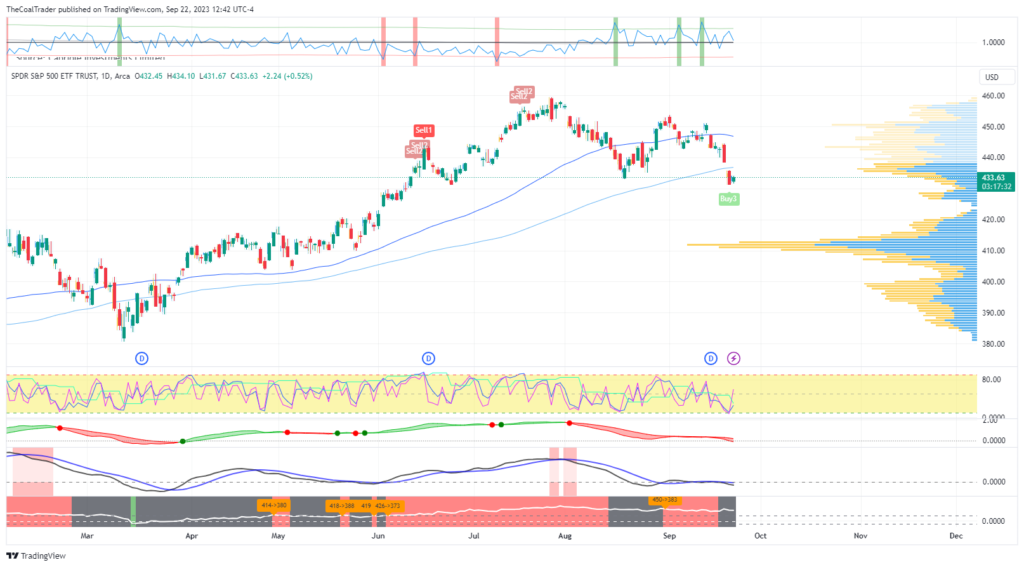 Please refer to the second and third panels from the bottom in the above chart, for Price Momentum (PMO) and Breadth Momentum (BMO) indicators. You can also see the short-term "Buy" signal in green on the chart for Thursday.
The medium-term pattern on the S&P 500 definitely resembles a head and shoulders pattern, with a neckline at yesterday's lows. I suspect we will likely break below that neckline next week before bouncing back. I have the following pathway as a guideline for my outlook through the end of the year for broad markets. I suspect 2024 will be a continuation of 2022's selloff. With the euphoria highs surrounding "AI" and NVDA the evening of August 24, 2023 marking the top of the bear market rally which started late October 2022. See below for my general outlook: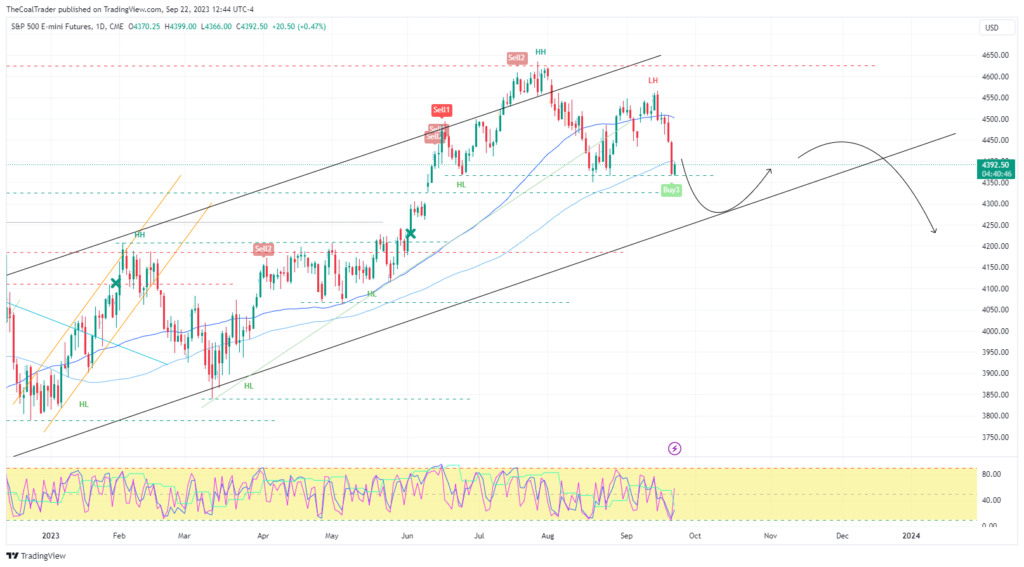 Long-Lean Proprietary View: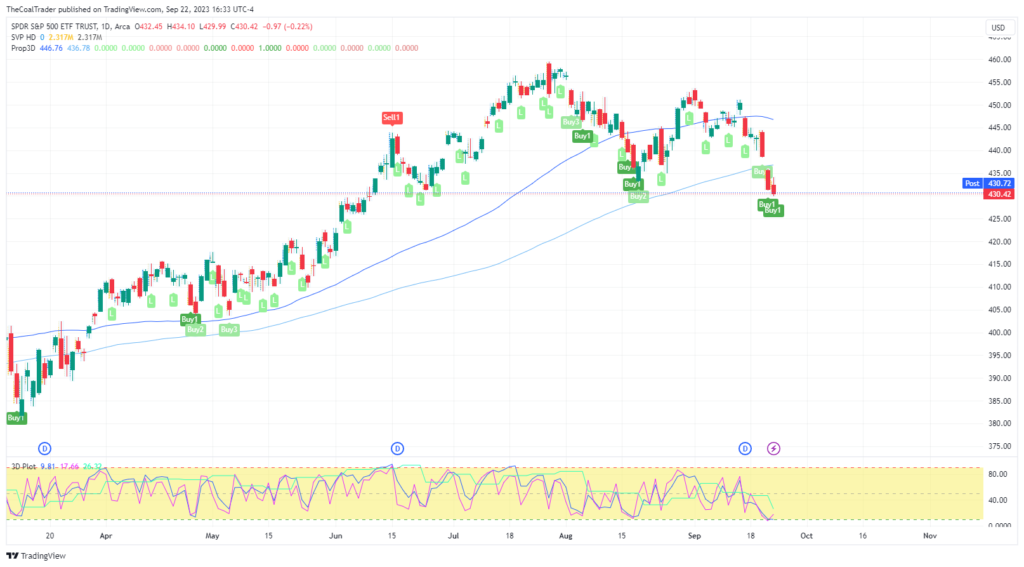 Short-Lean Proprietary View: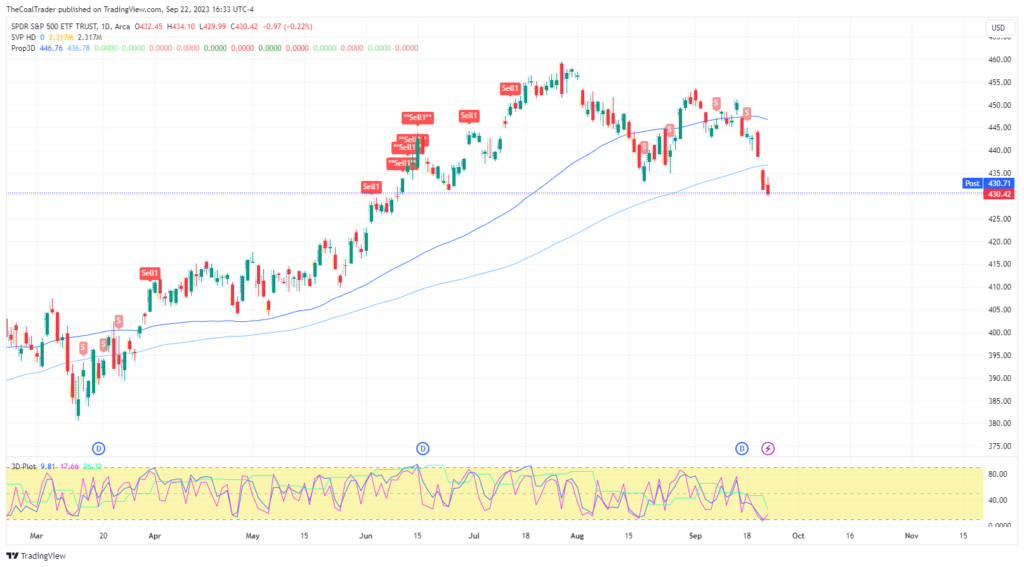 As we monitor the S&P 500 medium-term trends through time, we will track the performance of our trend analysis below.
Short the close on July 31, 2023
Disclosures:
The Coal Trader is presented for informational and entertainment purposes only. The information presented herein should NOT be construed as investment advice. Always consult a licensed investment professional before making important investment decisions. Nothing in this Site constitutes professional and/or financial advice, nor does any information on this Site constitute a comprehensive or complete statement of the matters discussed or the law relating thereto. The author of this Site is not a fiduciary by virtue of any person's use of or access to this Site or its Content. Remember that past performance is not indicative of future results. The financial markets can be volatile and unpredictable; therefore, you should carefully consider all risks and do your own research before making any financial decisions. The Disclaimer, located here, along with the Terms of Use and Privacy Policy, governs your access to and us of www.thecoaltrader.com including any content, functionality and services offered on or through this Site, whether as a guest or a registered user. From time to time, this Site, its affiliate entities, authors, owners, employees, and/or members of their immediate families, may have a long or short position in the equities or other financial instruments mentioned in this Site.